CPCAB Level 5 – Diploma in Psychotherapeutic Counselling Course
Looking to take your counselling career to the next step? Perhaps you want to start your own practice and become self-employed?
If so, our CPCAB Level 5 course is perfect for you!
Our level 5 course will add to your existing counselling skills and knowledge, providing you with all the additional know-how that you need to take the next step!
So, whether you want to start your own practice, earn a promotion within an agency, specialise in psychotherapy or simply improve your marketability and salary prospects as a counsellor, our course can help you get there.
At Connect, we believe that counselling is best learned through doing and not through boring lectures and PowerPoint presentations!
Therefore, all our courses are practical in nature, using exercises and discussions to aid learning, encouraging you to practice your skills as you progress. This 'experiential' learning is vital if you are to progress into a role as a practising therapeutic counsellor.
Our experienced tutors are committed to supporting you throughout the course, providing guidance and assistance at every step.
So, if you're looking to become self-employed and want the best advice and training available, our level 5 course provides the ideal course for you.
"I am just finishing my second year (level 3) with Astranti Connect and have been so incredibly happy with my studies and time learning here. We have had an incredible, inspirational and thoroughly knowledgeable tutor with whom we have all come to greatly respect (and adore) and as a group we constantly remark about how far we have all come both in personal development and knowledge. I could not recommend highly enough the experience I have had here and am incredibly appreciative of the professionalism, high quality of teaching and support and also the delivery of our course."
"I have really enjoyed this course. The online format has made it possible for me to attend. The teaching has been clear and supportive. I've been surprised at how in-depth this level 2 course has been – I feel really well equipped to continue down this path and learn more."
Experienced counsellors supporting you at every stage
Small group sizes so tutors are always on hand
Added to an active online community for peer support
Online live teaching
Daytime and evening courses are available
Pay with an instalment option to spread payments
Our level 5 course prepares you with the right practical and theoretical skills to continue progressing within your counselling career, whether that's starting your own practice or gaining a promotion.
Here are just a few of the skills that you will pick up along the way…
"I have really enjoyed the course I have completed. The materials, content and tutor support were all excellent. The feedback provided was timely and constructive. I would happily recommend Astrani Connect, so much so I have already signed up for the next level!"
Identify and comprehend the business requirements of running your own practice. 
Understand how to market yourself effectively as a counsellor to attract new clients.
Learn how to work safely, legally and ethically as an independent counsellor.
Plan your own programme for continuing professional development and advancing skills.
At Astranti Connect our aim is to provide the best and most comprehensive CPCAB-accredited counselling courses in the UK, and we are continually developing our courses and training our tutors to achieve that goal.
When you're comparing our course to others, it's important to consider what our course offers compared to other typical courses. Here's a comparison against typical course offered by a local college:
| | | |
| --- | --- | --- |
| | Astranti Connect course | Typical local college course |
| Develop counselling skills | ✓ | ✓ |
| Experienced tutors | ✓ | ? |
| 5+ years of experience | ✓ | ? |
| Course workbook | ✓ | ? |
| Specialist provider | ✓ | ✘ |
| Qualifying BACP hours | ✓ | ? |
| Experiential learning | ✓ | ? |
| CPCAB accredited | ✓ | ? |
| Additional online practice groups | ✓ | ✘ |
| Payment by instalments | ✓ | Not as standard |
How you'll earn your qualification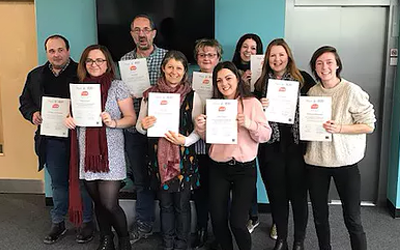 The great thing about undertaking a CPCAB course is that it's recognised nationally by the BACP and focused on helping you become the best counsellor you can be
To apply for this course, students must have at least achieved their Level 4 CPCAB Diploma or equivalent.
To pass the course, you have to prove competence in a variety of key counselling and business skills. You will demonstrate this through undertaking internal and external assessments.
Internal assessment: The tutor will gain evidence through observing you demonstrating knowledge and skills as you undertake exercises and practical sessions. In addition, during the course, you will complete regular exploration of your learning, undertake a self-review of your own learning, write assignments and do a case presentation.
External assessment: A structured case review (3,000–3,500 words). This is sent to CPCAB for assessment.
To complete the course, you will also need 60 hours of practical counselling experience. But don't worry; we're here to help. We understand finding an agency can be challenging. That's why we have created relationships with many counselling practices to help you find a workplace that's right for you. So that's one less thing to worry about!
In addition, you will need to undertake a minimum of 10 hours of personal counselling during the course and have had a minimum of 50 hours of personal counselling by the end of the course.
You will obtain your qualification after demonstrating your competence, passing your assessments, and completing your required practice hours.
Our team of experienced tutors knows what it takes to make it as a counsellor. After all, they're all qualified counsellors themselves and continue to be trained regularly in our tutor development programme! Head to our tutor page to meet the level 5 tutors for your course.
"I'm currently on the Counselling Skills Level 2 course and so far the course has been really interesting. The tutors are welcoming, kind and knowledgeable and we have already learned a lot about active listening skills. They give detailed constructive feedback every week, both written and verbal, on how we are doing. Really looking forward to the rest of the course!"
"I have been with Astranti for a course now and have signed up to a second! The tutors and staff are incredible! Would recommend to anyone looking at going into Counselling."
At Astranti Connect, we understand the importance of providing affordable and flexible study options that cater to your needs and lifestyle.
With our instalment plan, you can spread the cost of your course over 18 months, interest-free.
Depending on your preferences and availability, you can choose between our evening and daytime options, and all our level 5 courses are online.
Course costs:
£2,381 (our course) + £369 (CPCAB fees)
Total payable: £2,750
Payment options:
Instalment plan: £500 deposit + 18x monthly payments of £125
Full payment: £500 deposit + 1x payment of £2,250
Upcoming courses
Explore our upcoming level 5 courses and find one that suits you.
Need help choosing your course?
If you're thinking about joining one of our level 5 courses, but still have questions you need answers to, why not book a 1-2-1 call with one of our course advisors?
Our course advisors are on hand to help you with any queries that you may have about our courses, and our 1-2-1 calls are completely free.
To book your call, find a time slot that suits you on our 1-2-1 booking calendars below: